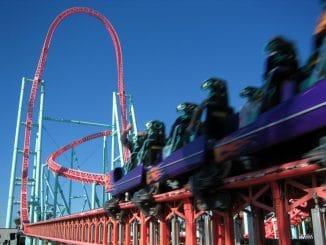 The popular Southern California amusement park Knott's Berry Farm had two guests injured on September 16, 2009, when a cable on the Xcelerator roller coaster snapped while the ride was in motion. The two victims were a 12-year-old boy and an older man, both of who had to be taken to the hospital.
The Knott's Berry Farm spokeswoman Jennifer Blazey spoke to the media, saying that the accident happened around 4 p.m. on Wednesday, at their Orange County location in Buena Park, CA. Blazey also reported that the cable caused a laceration to the boy's leg, and back pain in the man. They were both transported to hospitals, but as of last Friday, there had been no word on their conditions as of Friday. The hospital officials wanted to respect patient privacy laws and so did not report on their conditions.
Blazey insists that the ride is inspected daily, but has since been shut down. It is the first reported problem with the ride since it opened in 2002, according to Blazey. The state is currently investigating the personal injury case.
If you or a loved one has ever been injured or killed in a Southern California roller coaster accident, contact Orange County, CA personal injury lawyer and the Buena Park personal injury lawyers.