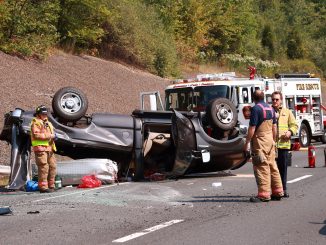 A 38-year old man suffered critical injuries in an Orange County car accident that occurred at Goldenwest Street on September 28, 2010 around 6:00 p.m. According to Huntington Beach Police Lt. Gary Faust, the injured victim was thrown out of his pickup truck after it collided with a BMW.
Faust said that the pickup truck rolled over and the man was thrown out of it. The injured man suffered serious head and internal injuries and was transported to UCI Medical Center for treatment. The BMW driver also complained of pain and was taken to a nearby hospital for treatment. The names of both the car drivers have not been released.
Police are still investigating the cause of this car accident to determine who was responsible for causing the accident, but it is believed that one of the drivers might have crossed into the intersection against a red light. If any of the car drivers is determined to have caused this traffic collision, then he might be held liable to pay the other with compensation to cover cost of hospitalization and pain and suffering.
The injured pickup driver should consult with a car accident lawyer in Orange County who could help them get a just compensation for the pain they suffered.