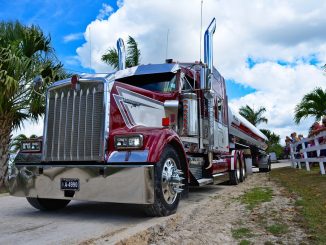 A serious San Diego truck accident occurred on northbound Interstate 15 (I-15) when a big-rig truck ran over and ended up on top of a car, leaving the driver seriously injured. According to the California Highway Patrol, this San Diego freeway accident occurred south of Interstate 8 (I-8) in the Mission Valley area of San Diego shortly before 1:30 p.m. on October 19, 2010.
California Highway Patrol officers said that the truck crashed on the top of the car before it came to rest on the center divider. The smaller vehicle was crushed badly and its' driver suffered serious injuries and was immediately rushed to a nearby hospital for treatment.
Eastbound Interstate 8 remained blocked for several hours following this truck accident until emergency crew cleared the road around 4:30 p.m. Authorities are still investigating what caused this traffic accident to occur.
From the available information, it is not clear if the truck driver's negligence or inattentiveness lead to this accident. Now the authorities need to find out what made the truck driver land on the roof of the car. Did he lose control of the vehicle? Was there any automobile malfunction or design issue which contributed or caused the auto accident to occur? Was the truck driver driving under influence of alcohol or drugs? If the driver is indeed found at fault, he may be held liable to cover the cost of medical treatment, hospitalization costs, lost wages, and other accident related damages.
The injured car driver should consult an experienced San Diego truck accident lawyer who could help him acquire fair compensation for his pain and damages suffered. We sincerely hope and pray that the injured victim did not suffer any life threatening injuries and that he recovers completely from his injuries.