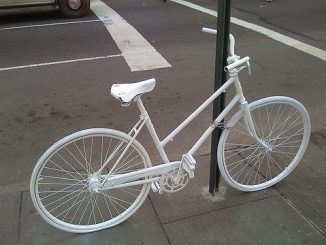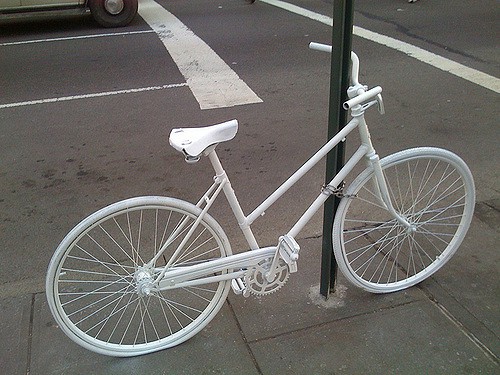 Members of San Diego State University's student organization The Bike Stand and fellow students recently created a "ghost bike" in memory of a bicyclist killed in a car-bicycle crash at the intersection of Collwood and Montezuma streets near campus, not far from where the fatal accident occurred.
A "ghost bike" is a bicycle painted white and chained near the area in which a bicyclist lost his or her life in an accident. Along with flowers and other markers, it serves as a memorial, as well as a visible warning to motorists to pay attention, share the road, and avoid injuring or killing another person on a bicycle.
The ghost bike honors the memory of a man killed in a bicycle accident on Montezuma earlier this month. Although the SDSU students did not know the man personally, they rallied to create a memorial because they have first-hand experience with the dangers of navigating the area on bicycle and the need to remind drivers to share the road and take care around bicyclists. Students and other area bicyclists have also begun lobbying City Hall and taking other steps to get traffic-quieting measures implementing on Montezuma and surrounding streets.
Our skilled San Diego bicycle accident attorneys have represented many injured cyclists and their families after an accident. We have the legal resources and courtroom experience to help you get the compensation you need. For a free, confidential consultation by telephone, call our office today.