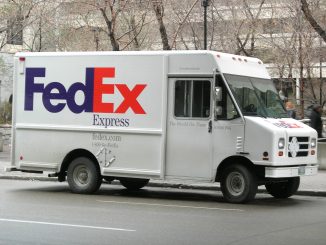 Delivery trucks deliver products and goods from sellers to customers. The most common delivery companies are FedEx, DHL, and UPS. Delivery trucks are bigger than your average car, and can cause a severe accident if they collide with your vehicle. If you are involved in an accident involving a delivery truck, make sure you are represented by an experienced delivery truck accident attorney.
Fortunately, our lawyers have handled several delivery truck accident claims. Attempting to settle with delivery companies is tough if you don't know the process. We can help out with that.
Delivery Truck Accidents Can Seriously Injure San Diego Drivers. A Trained Lawyer Can Help Get the Compensation You Deserve.
Delivery trucks provide a helpful and necessary service for businesses selling and delivering their products to their customers.  When someone needs a product that is too large for the US Postal Service to carry, or they need their package urgently, people use delivery companies.  Although delivery trucks with UPS, FedEx, and DHL are beneficial, these delivery trucks can get into traffic accidents as well.  Be sure that you know your rights and how to contact if you are ever involved in an accident with a delivery truck.
Types of Delivery Trucks
The most common type of delivery trucks are those that deliver express mail.  UPS, DHL, and FedEx are the most frequently used express delivery companies.  These trucks are very large and heavy due to the large amount of mail they carry.  Because of this, injuries stemming from these vehicles can be catastrophic or even deadly.  Semi-trailer trucks (ie "18 wheelers") are able to carry many types of goods due to their large storage space.  Because these semis are so large, a collision with them can be especially harmful.
Impact of Delivery Truck Accidents
Because delivery trucks are larger in size than your average car or truck, collisions with them are can be especially damaging.  Not only can a collision result in a total loss of your car, but your personal injures can be far more serious than a regular car accident.  If the delivery truck fails to yield the right of way or takes a sharp turn, the impact can be potentially devastating to a pedestrian or vehicle.
Main Causes of Delivery Truck Accidents
You can be involved in an accident with a delivery truck for a variety of reasons.  If the delivery driver is driving negligently and not paying attention while on the road, it could lead to an accident.  Also, if the driver is not careful when backing up, the driver could hit a pedestrian or car.
Large delivery trucks also require a lot of maintenance due to their large size and parts.  Delivery trucks often get into accidents because the company was negligent in maintaining their trucks.
Get a Free Consultation from Our Office
An accident involving a delivery truck can be pretty disastrous so it will be best to consult an experienced delivery truck accident attorney.  We are experienced in handling delivery truck accidents.   In the past, we were able to receive a favorable settlement from the delivery companies for our client's personal injuries.  If you or a loved one has ever been involved in an accident involving a delivery truck, please call our law office for a free consultation.