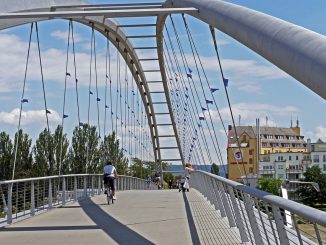 North San Diego County recently saw the unveiling of a pedestrian bridge, to help walkers and bikers traverse Lake Hodges, usually traveled by those going between destinations in Escondido and San Diego.
Many who took this route have long been waiting for an alternate to having to take the busy Interstate 15, which has experienced many accidents and deaths in San Diego. Frank Lary, a cyclist who frequently was forced to take this highway over the lake noted that it was "very uncomfortable. I was always looking back at the cars, seeing people on their cell phones and not paying attention."
The San Dieguito River Park officially opened the highly anticipated pedestrian path on May 15, 2009, just in time for San Diego's Bike to Work Day. Having been in the works for about a decade, the 990-foot-long span is not only a slim stress-ribbon bridge, but it is the longest stress-ribbon bridge in the world. The $10.5 million bridge is designed to safely guide cyclists and pedestrians over Lake Hodges and out of the way of automobiles. It is constructed of steel, tensioned steel cable, concrete, and precast concrete panels.
The David Kreitzer Lake Hodges  Bicycle Pedestrian Bridge, as it has been named, will be open from 6 a.m. to 9 p.m. daily. It has benches on two points of its' long span. Horses and fishing are both banned along the bridge.