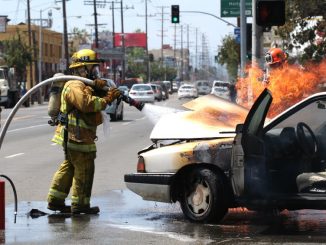 Car accidents in southern California are a well-known source of injuries, but a fire caused by an accident or a defect in the vehicle's design or manufacture can also cause serious harm or death. One way to help protect yourself and your family from the risks of vehicle fires is to be informed about the risks.
California vehicle fires account for one in every six fires in the state, according to the U.S. Fire Administration. However, this number does not count the thousands of car accidents fire departments respond to even when no fire occurs. Defective parts, maintenance, or repairs are the most common cause of U.S. vehicle fires, along with other types of accidental fires.
The majority of highway vehicle fires – 84 percent – start in passenger vehicles, like cars, pickup trucks, and SUVs. Of these, 62 percent start in the vehicle's engine. About one-third of engine fires end up killing at least one person in the vehicle.
Vehicle fires are more likely to cause a death when they are the result of a crash. In 57 percent of car accidents that caused a vehicle fire, at least one person suffered fatal injuries in the U.S., according to the Fire Administration.
If you or someone you love has been injured by a fire in a motor vehicle, the knowledgeable San Diego burn injury attorneys can help you find out exactly what happened and hold any negligent parties responsible. For a free case evaluation, call our office today.