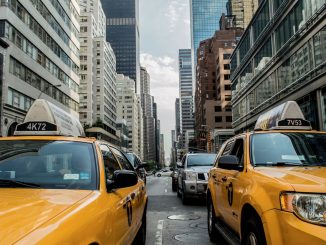 Taxicabs are a common way to get around San Diego. There are many cab companies in San Diego, because we have many tourists and travelers in our city who need transportation but maybe do not have access to their car or will want drive. Unfortunately, some of these taxi drivers drive recklessly and erratically, causing motor vehicle accidents. If you are ever involved in a taxi accident, be sure to consult with a skilled taxi accident attorney.
Our personal injury attorneys have experience handling taxi accident cases. We also compiled information about taxi accidents and how you can be safe while in a cab.
Taxi Cab Companies are Subject to the Heightened Common Carrier Duty of Care When Driving Their Vehicle. Learn How Taxi Drivers Have a Duty of Utmost Care.
Taxicabs are a great way to get around if you don't want to ride in a large public transportation vehicle, like a bus or trolley.  Taxicabs are especially popular in San Diego because of the large volume of tourists who visit year round. Because there are numerous taxi cabs around, it is inevitable that taxicabs are involved in traffic and pedestrian accidents.  Make sure you consult with a taxi cab attorney if you are involved in a taxi accident.
Safety tips to Follow While in a Taxicab:
Be sure that the seat belts are in working order before the taxi begins its trip.  If the seat belt does not work, inform the taxi driver of this or refuse to ride in the cab.  If you are not wearing your seat belt, and the taxi crashes, you may not be able to fully recover for your injuries because you were partially at fault.  
It is good practice to write down your taxi driver's information.  In case of an accident, you will have your driver's information already on hand.  The information should be right in front of you behind the driver's seat.
Politely ask the taxi driver to slow down if they are driving too fast or erratically.  Many taxi drivers feel that they know the city in and out and decide to drive quickly or cut in and out of traffic so that they can get more fares.
Who is Liable for Your Taxicab Accident?
If you are a passenger and the taxi driver gets into an accident, the taxi cab company will likely be liable for your injuries, and not the individual driver.  Each taxi cab in California must have valid insurance.  The more established taxi companies, like Yellow Cab, will have more insurance coverage than the smaller cab companies.  Keep in mind that taxi cab companies are deemed to be "common carriers" under the law and therefore have a heightened duty of "utmost care" to its' passengers.
Common Causes of Taxicab Accidents
Negligent driving by the taxi driver (speeding, failing to yield, not following signs, etc.).
Bad maintenance of the taxi.  Neglecting to check the oil, fluids, engine, tires, seat belts, brakes, and transmission on a regular basis.
Using bad repair shops to fix problems with taxi cabs.
Taxi driver working while high or drunk.
Negligent hiring by the taxi cab company.
What can a Can a Taxicab Accident Attorney Do for You?
File a claim with the taxi company.
Find you reputable doctors and personal trainers to get you well again.
Negotiate with the taxi company for a fair and just settlement.
Take the case to trial if necessary.
Choosing a taxi cab accident attorney is no easy task.  Many attorneys claim to be taxi accident attorneys, but they don't have the experience that we have.  Our lawyers are experienced taxi cab accident lawyers and have successfully prosecuted the interests of our clients.  If you or a loved one has ever been involved in an accident involving a taxi, please contact our office for a free consultation.