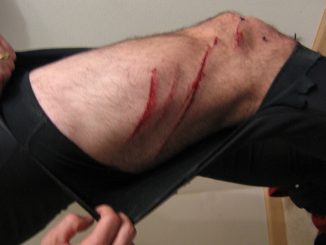 Slip and fall accidents commonly cause lower leg injuries when people fall unexpectedly and cannot stop themselves gracefully. The torque and force the fall put on their joints and bones can be severe and cause serious injury and pain.
In the medical community, the severity of a lower extremity injury stemming from a slip and fall accident is determined by several risk factors. Some people are more susceptible to leg injuries, such as a foot and knee injury from a slip and fall than others and it could affect your personal injury case.
Our San Diego slip and fall attorneys recently discussed a medical study at a personal injury law firm website which attempts to predict the severity of lower extremity injuries to predict medical treatment and prognosis.
Are You More at Risk for Suffering a Lower Extremity (Leg) Injury from a Slip and Fall Accident? A New Study Finds Key Indicating Factors.
Lower extremity (leg) injuries are frequently caused by slip and fall accidents. Slip and fall accidents most commonly lead to injuries such as muscle strains, contusions, and ligament sprains to name a few. The ankle, knee, and lower leg are the most common places for lower extremity injuries. Lower leg injuries are frequently treatable, but costly, and the worldwide medical costs for treating them are estimated at $1 billion a year. Because of the frequency and treatment costs of lower extremity injuries, researchers and clinicians have compiled a list of risk factors to help determine how severe the lower extremity injury is relative to the scope of possible leg injuries.
Some risk factors include: age, gender, menstrual cycle (in women), previous injury, inadequate rehabilitation (of a previous personal injury), acrobatic fitness level, limb dependence, flexibility, muscle strength/balance, reaction time, limb girth, postural stability, and anatomical alignment.
Leg injury risk factors help insurance adjusters, doctors, and attorneys determine the severity of the slip and fall accident which helps them access the compensation the injured person should receive. This is why every slip and fall case is unique. Since people themselves are unique, there is no specific rate that a person will get when they suffer a slip and fall accident.
If you have suffered a slip and fall accident that has caused a lower leg injury, including a foot and knee injury from a slip and fall, please be sure to see an orthopedic doctor, preferably a surgeon, as soon as possible to have your injury examined and to determine its' seriousness. It would also be a good idea to gather all relevant facts available to you about your accident—gather all contact information for witnesses to the slip and fall, take pictures of the material or object you slipped or tripped on, and look around for any video cameras which may have captured the slip and fall. You should bring this information to an experienced San Diego slip and fall lawyer who specializes in personal injury cases, such as our lawyers, for a free consultation and help with getting the medical treatment you need and a guidance.