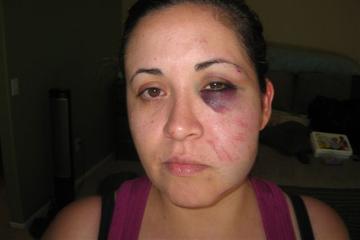 On the evening of June 7, Yessenia "Jesse" Moreno of Westmorland, a town outside El Centro in the Imperial Valley, reported that she was assaulted by her employer and two others while she was working at The Town Pump, a local restaurant.
"All I know is (her co-worker, Estella Jimenez) ran toward the bar area, I get halfway to the bar, and before I know it the owner Andrew (Salazar) comes at me in a hostile way and her sister comes at me yelling at me," Moreno said. "We then started fighting.
"I recall Andrew threw a drink at me, and (Estella's brother, Zobeck Aguire) threw all kinds of beer on me," she said. "I remember I was on (Estella's sister, Esther Aguirre), Andrew was on me and I realized he was choking me.
"Then all of a sudden I feel a big something hit my face, and it was a big glass salt shaker that was full of salt," Moreno said. "Estrella had thrown it at me."
Westmorland Police arrested Andrew Salazar, 37, Zobeck Aguirre, 33, and Estrella Jimenez, 24, were arrested and booked into Imperial County jail.
Follow us!